We are delighted to announce the winner of the 2019 International Continuous Improvement Excellence Award is An Post.
Mails & Parcels is rapidly expanding their ecommerce and mail marketing business. An Post are accelerating this change through a Lean Transformation programme which continues to grow and develop. The "An Post Way" model was introduced and embraced by all and this culture and mindset change is key to their continuous growth and profitability.
The award ceremony will take place in January 2020 and we wish An Post every success on their Lean journey.
We specially commissioned an award carved from a 4,200 year old Irish bog yew in recognition of the innovative work being done by companies in Ireland in the area of continuous improvement. The sculptor is Kevin Casey from Newtowncashel in County Longford. Kevin works on private and public commissions including commissioned sculptures for Past Presidents and Taoisigh of Ireland.
Pictured with the award is Dave Skelton Chairman of Leading Edge Group and member of the adjudication panel for the 2019 International Continuous Improvement Excellence Award.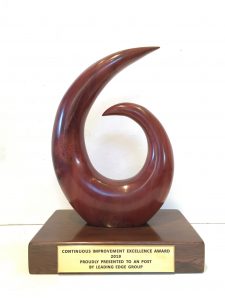 About Leading Edge Group
The Leading Edge Group has been involved in the area of continuous improvement for over 22 years supporting their clients initiatives in making and sustaining business change. They have used techniques such as Lean and Six Sigma to support savings and benefits in excess of €750m since their inception in 1995. Leading Edge Group has worked on a number of large business transformation programmes for companies such as Dairygold, Bord Na Mona and Ornua not to mention similar programmes completed in Canada, UAE and Australia making them one of the leading international experts in Business Transformation.